We as consumers don't want to hear marketers tell us what to eat, wear, or buy - we want to hear our favourite personalities recommend products they use and love.
That's why influencer marketing has exploded over the last few years, as marketers have wisely realized that partnering with key players in their market can drastically boost sales, and provide more measurable results than a banner or print ad.
But what about social advertising? Shifting more resources towards social media is a sound strategy because it's the place to connect with your audience. And many platforms (think Facebook, IG, and TikTok) offer a multitude of options to make the most out of your advertising dollars.
However, it's not enough to put up a half-baked advert and wait for the sales to roll in. There's more competition than ever, so you need to make your ads resonate from the first second.
How can you do that? Well, the easiest way to boost social ad conversions is to repurpose your influencer content in your social ads.
This can have some huge benefits:
Improve conversion rates through more relevant ads

Extend the lifespan of your top-performing influencer content

Help you expand into new social media channels
In this post, we'll cover:
Why influencer content is the boost your social advertising needs

What to be aware of when repurposing influencer content

Tips for the best results with your influencer x social advertising collab

How leading brands repurpose their influencer content
Looking for an influencer marketing platform to help you streamline your influencer campaigns? Register here for free and our team will help you launch your next campaign.
Why repurposing influencer content is the boost your social advertising needs
I don't need to give you a bunch of stats on social media to convince you it's big - you know that already. However, it's easy to underestimate the sheer size and impact of social media, and what that means for your social advertising. So allow me to set the scene:
So, yeah. This is why social media is where the business happens.
But now the bad news:
So, social media is still booming, your audience is ready and willing to pay for your quality products, but you really need to cut through the noise in order to reach them.
Influencer marketing has been one strategy that tons of companies have employed to great success. Starting with huge names with millions of followers, now marketers are diversifying their influencer portfolio with more macro, micro or even nano-influencers who lack the broad reach, but offer far higher engagement rates, due to a much closer relationship with their audience.
That's why influencer marketing earns more than 5€ per dollar spent on average, and depending on your industry, it can be much more.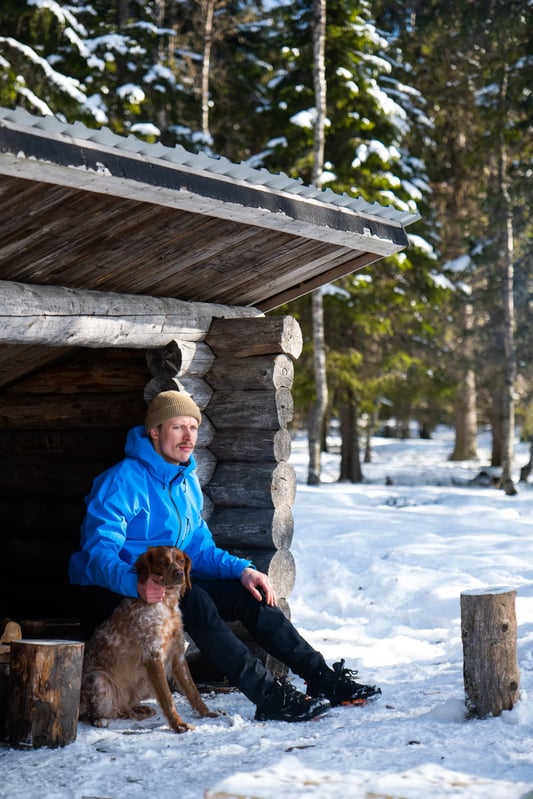 Many brands prefer to work with influencers who have smaller but more engaged follower bases. Photo by @jarcce for Kevätretkeily ja verkkokaupan lanseeraus campaign
However, while these influencers do command high engagement rates, they can lack in reach. If your goal is to spread the word about your product to as many people as possible, influencers alone may not get the job done.
Enter social ads.
Nielsen research made a study about highly successful ads, and found that the best score well on three dimensions:
Attention

Conversion to long-term memory

Emotional engagement
So how can you ensure your social ads stand out based on these factors?
According to Nielsen's study, the key element is knowing how to connect with your audience with messages that resonate with them. Nearly half of all global respondents (44%) thought that ads depicting real-life situations resonate most powerfully with them.
Also, consumer neuroscience research on learning and memory shows that employing familiar themes is extremely useful in driving memorability. So, basically, we remember things better when they're put into a familiar context.
You may be putting the pieces together already…
Influencers generate relevant, familiar content that resonates with their audience. Often, they show more than just the product - they show how it fits into their daily lifestyle.
When you take the same content your influencers are sharing with their engaged audience, and promote that to a wider base with social ads, you're using engaging content to connect with more people.
After all, user-generated content tends to outperform studio-produced content. 62% of consumers are more likely to click ads that feature customer photos rather than images created by the brand, and Alvar Pet found that user-generated content drove 91% more engagement and 21% more traffic than their studio-produced content.
Just imagine using content like this for your social advertising…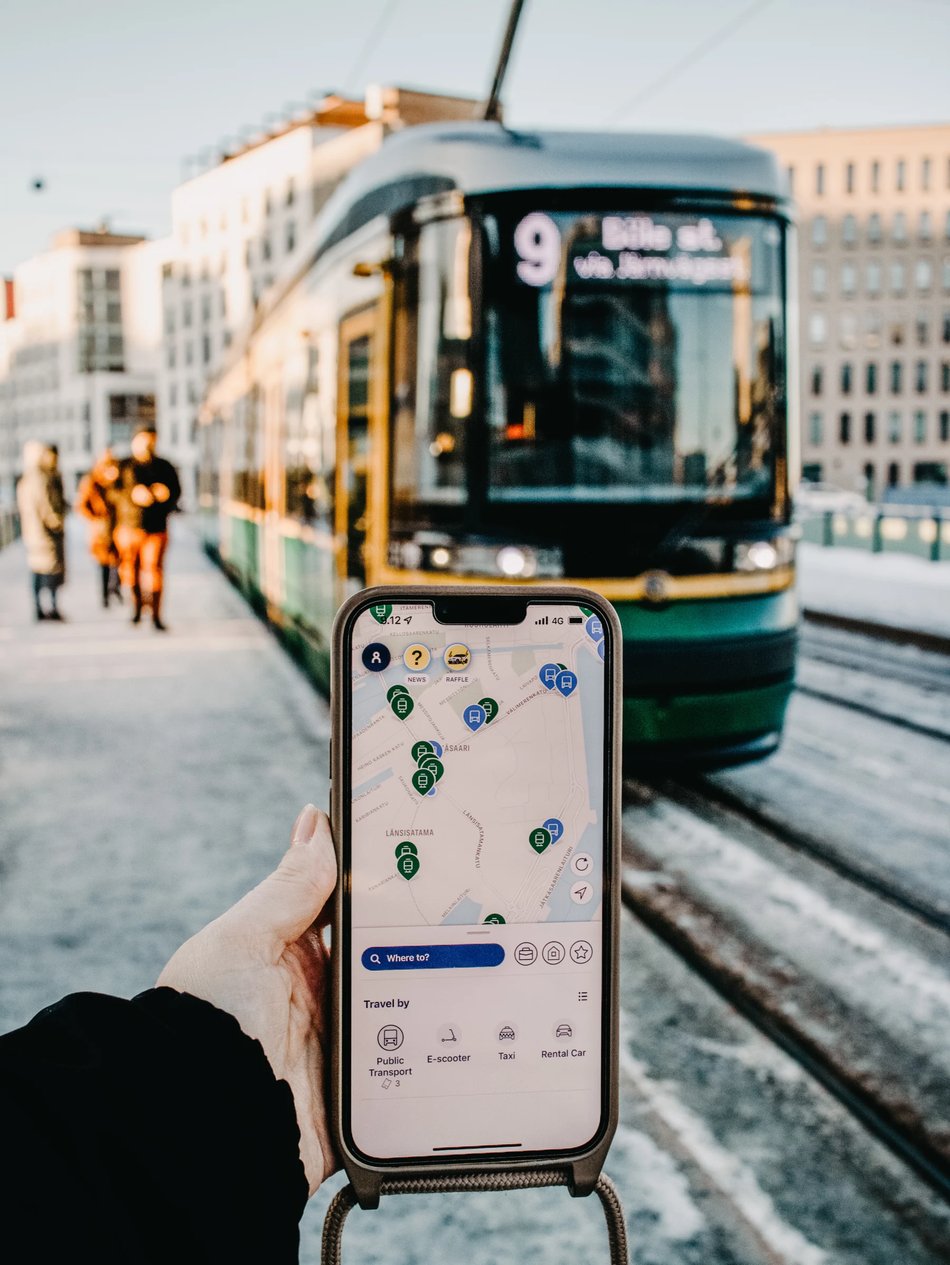 Photo by @kathrindeter for Julkisen liikenteen liput joka lähtöön! campaign
Tips for maximizing your influencer content usage
Whether you have a huge database with influencer and user-generated content, or you're just getting started, these tips will help you reuse your influencer content in an effective manner.
Really - you don't have to have any existing influencer campaigns to get started with using influencer material in social ads! (I mean, obviously you'll have to run one first.)
1. Reach out to lookalike audiences
When you use an influencer marketing platform to keep track of your influencer campaigns and content, it's ridiculously easy to see what sort of audience is engaging most with your influencer content.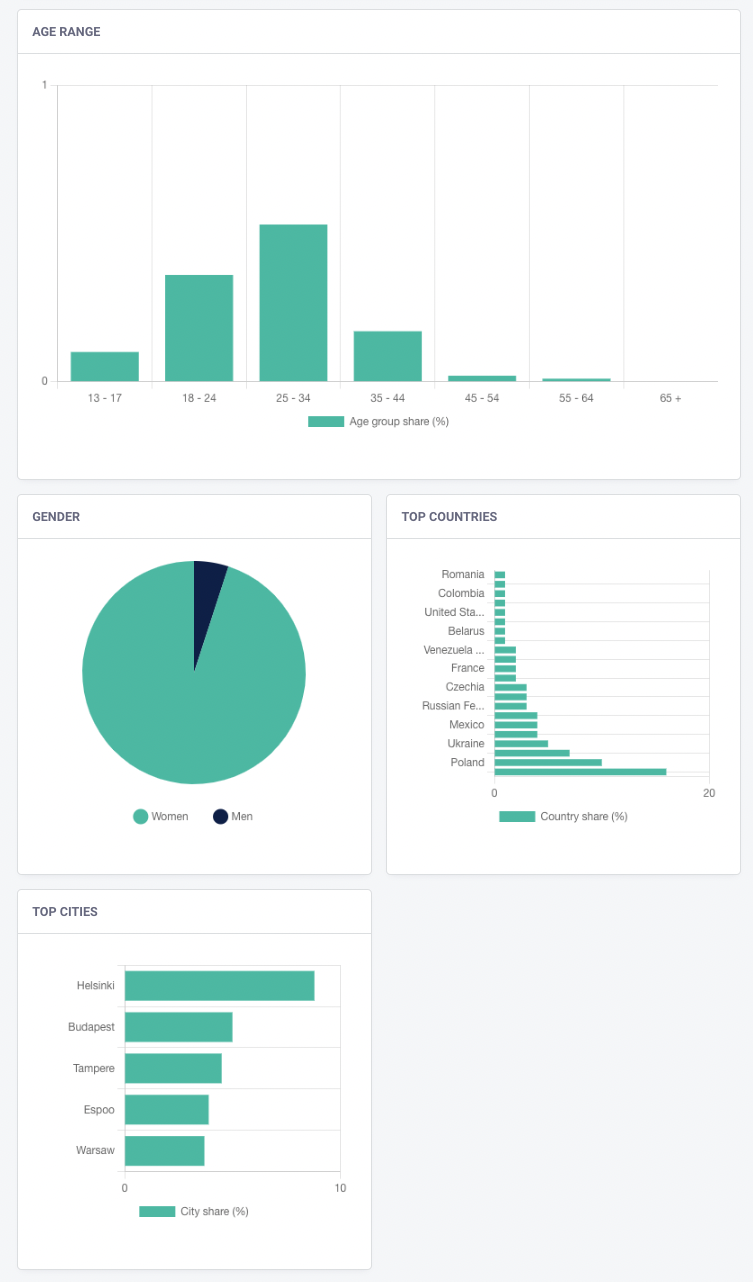 You can learn what audience to target on social media through Boksi influencer campaigns.
Then, to maximize your return, use those demographics in your social ad platform of choice to reach a similar audience on a much larger scale, with content that you know will resonate with them.
Not only will you use content that converts better, but you'll also have a highly targeted campaign to boost your results further. Win-win!
2. Repurpose only the best content
Make sure you keep a close eye on which content and influencers over-perform during your campaigns. When you see a clear winner, start thinking about how you can repurpose it for social ads.
After all, you want to spend your valuable advertising dollars wisely.
Think of your influencer campaigns as tests, and then run with the best option for your social ads.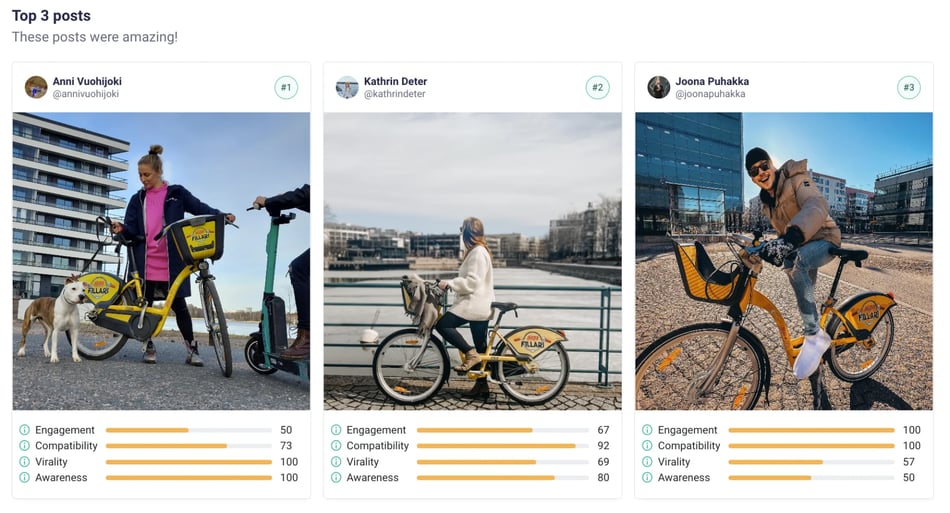 You can easily see the top-performing content posted during your campaigns in Boksi.
3. Slide into new channels and tap new markets
New channels mean new opportunities, but there's a learning curve before you can really take off. However, influencer marketing can help you enter a new channel by leveraging the existing networks of influencers. Then, use social ads with the best-performing content to save you both time and money getting a foothold in this new world.
After all, if your influencers already have a presence on the social channels you want to test out, they're your perfect ticket in. Then, once your campaign has ended, you can test different positionings with the best-performing content and evaluate the results quickly.
So be thoughtful with your social ads, and use them to test the waters in new markets.
4. Consider how to repurpose influencer content already in the planning stage
It's much easier to prepare for reusing influencer content during planning than it is after the campaign has ended. If you don't have permission beforehand, then you need to reach out individually to influencers, get the rights and approval, then create the ads, launch them, wait for the results…
Some influencer marketing platforms like Boksi allow you to purchase the full image rights for any influencer content produced during your campaigns, meaning it's super easy to repurpose any content for your social ads the moment your campaign ends.
When you find content that overperforms, simply buy the image from the influencer and start preparing ads. No need to negotiate - the influencer can put their content for sale, and then it's yours, forever.
If you aren't using an influencer marketing platform, make sure you consider how you will repurpose content right in the planning stage. Influencers will appreciate the transparency, and you'll feel much more comfortable and confident when it's time to launch your ads.
And if you need help preparing a great brief for influencers, we have a blog post that covers all of that right here.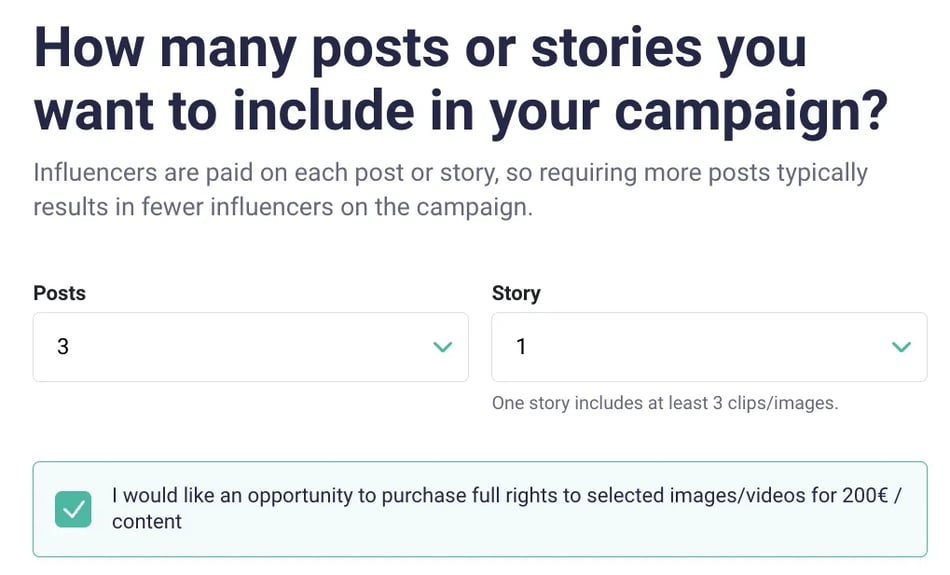 Repurposing your influencer content is as easy as clicking one button before launching your campaign.
5. Use an
influencer marketing platform

to manage and easily find your best influencer content

If you aren't using an influencer marketing platform to streamline your influencer workflows, then you're really missing out.

An influencer marketing platform allows you to:
Manage your influencer campaigns and applications all in one place

Measure the results of each campaign and compare it to others

Store all influencer content in a dedicated library for easy reuse

Manage contracts, billing, and all that not-so-fun stuff
Social platforms demand you move fast. You don't want to be stuck searching for a random conversation in your Instagram DMs, or trying to find the right email thread in your inbox, when you can be working on far more impactful tasks. Keeping everything influencer-related in one spot will save you and your team tons of time and headaches.
How other companies repurposed their influencer content
Now that you have a good idea of how to repurpose your influencer content in social ads, let's take a look at a few real-life examples of how other companies did exactly that.
Plus, I've included a bonus example of one company who really thought outside the box (or outside the Boksi?) with their influencer content.
Ifolor brings a personal touch to their social ads
Ifolor helps us remember the special moments in our lives by creating nearly anything you want with your photos.
We all have hundreds of photos in our camera roll, but how often do you print out your photos? There is a feeling of reverence when you create a personal story of your captured memories that scrolling through your phone can never emulate.
So ifolor ran an influencer campaign that encouraged influencers to create their own photobooks of memories with their friends, and share those moments online. And after the campaign ended, they promoted the best content on Facebook and Instagram to encourage more viewers to take some time and thank their friends for being part of their lives.
Campaign stats
CPE: 0.75€

CPM: 51.28€

Total reach: 35,300

Total impressions: 38,400

Average engagement %: 9.33%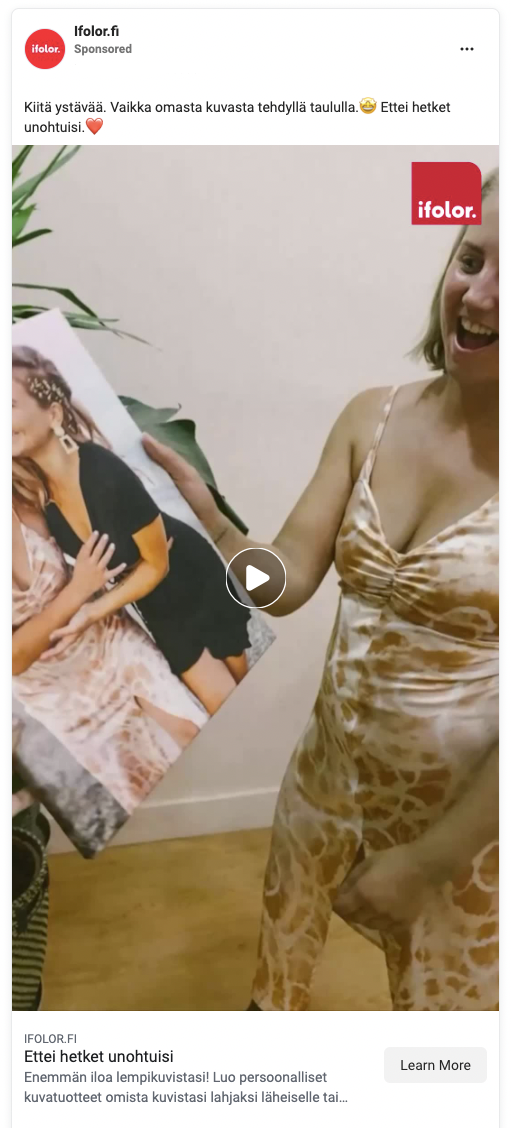 Ifolor used video content created by influencers to promote their image book services to new markets.
Repurposing influencer content on a Whim
Whim makes moving around easy and sustainable. The world's first MaaS solution Whim provides a compelling alternative to car ownership.
Their award-winning app brings multiple transportation methods together into one application, meaning that people can hop from a scooter to the train, and to the city bike, without the pain of downloading multiple apps and inputting payment details into each.
Basically, we just want to get to where we're going without a hassle.
They began marketing Whim around the city of Helsinki, using images sourced from influencers and creators using their app. From amazing pictures of real people using the city bikes and taxis, enjoying a tram ride, or even navigating the metro, Whim connected with people through the influencers they know and trust.
And best of all, once the campaigns ended, they leveraged the highest performing content in other ads to maximise the impact of their campaign.
Campaign stats
Average CPE: 1.1€

Average CPM: 60.5€

Average reach: 80,680

Total impressions: 500,000

Average engagement %: 8.86%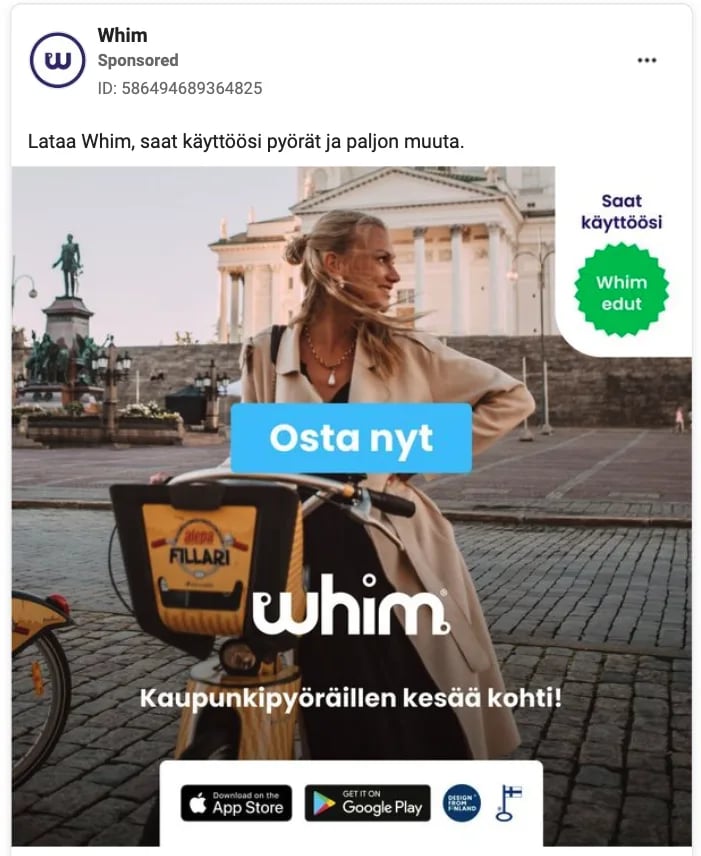 Luhta helping us find our own style
Your Face is one of Luhta Sportswear Company's many brands focused on women's fashion, focusing on clear and simple clothing that are functional yet timeless.
After hosting an influencer campaign to promote their upcoming spring and summer lines, they took the best performing content and used it in social ads encouraging new customers to find their own style in their store.
No need to go out and take new photos in an expensive photoshoot - they simply added their own text and logo to the photo and used it for their ads.
And as a bonus, they even repurposed their influencer content in print ads. That's right, social ads are just one of many ways to repurpose your influencer content!
Campaign stats
CPE: 0.51€

CPM: 27.79€

Total reach: 24,800

Total impressions: 28,000

Average engagement %: 9.55%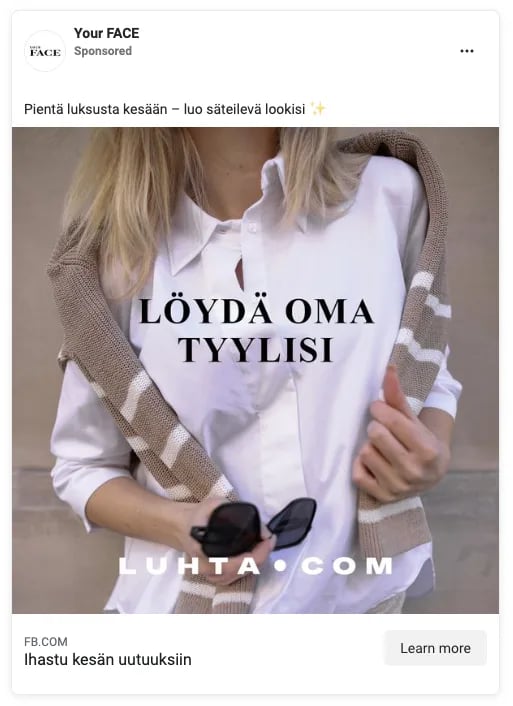 Influencer content is the perfect creative asset for your social ads, as Luhta can attest to.
Bonus: How Viinimaa took a unique approach to repurposing
This isn't an example of social ads, but I wanted to give you a unique example of repurposing influencer content.
Viinimaa, in partnership with Alko, decided to promote sparkling wines as a perfect match for the warm summer approaching Finland.
They partnered with influencers to show how sparkling wine is a delicious and affordable drink for summer enjoyment, but once their campaign was over, what was left for them to do?
Well, rather than promoting it themselves, they sponsored an article in one of the largest news outlets in Finland, and shared their influencer reviews within the article.
You can read the article here (in Finnish), but in essence the influencers tested three different sparkling wines and described which was their favourite. They provided short reviews, and shared content provided to them by the influencers.
And this is just one example of how you can repurpose your influencer content outside social ads!
Campaign stats
CPE: 1.08€

CPM: 63.50€

Total reach: 85,500

Total impressions: 96,800

Average engagement %: 9.28%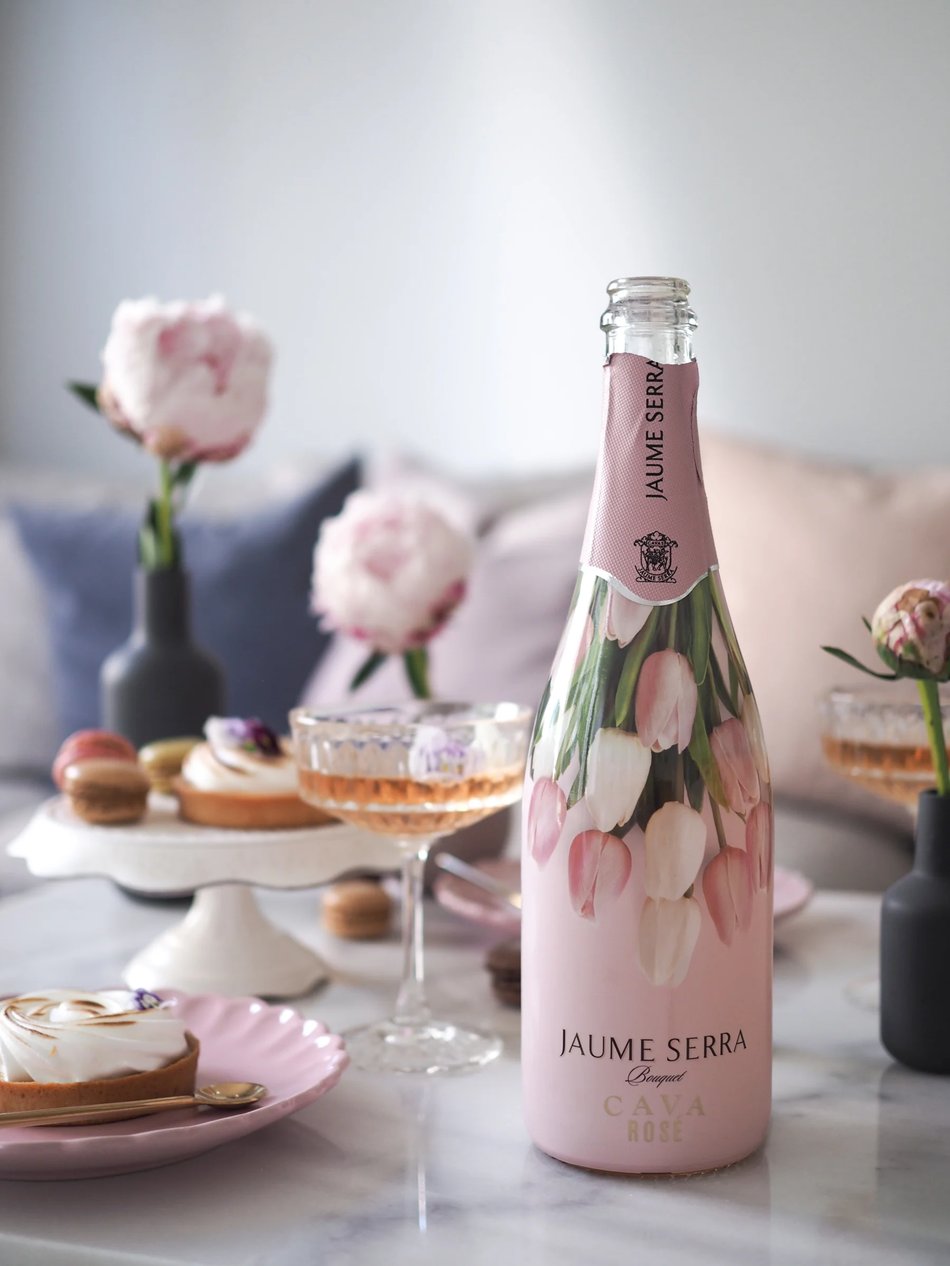 After conducting a successful influencer campaign, Viinimaa repurposed their influencer-generated content in a review article. Photo by @annikakarkkipurkki for Kuohuvat kevääseen ja kesään! campaign
Unlock the full potential of your influencer content
If you struck gold with a blog post or ebook, you wouldn't let it languish - you'd put more resources behind it to generate even more value.
Why should your influencer content be any different?
Your influencer content is powerful creative for your social advertising (or any advertising really). And having the right influencer marketing platform can make finding the right influencers, measuring the impact, and reusing the best content in your social advertisements as simple as possible.
Boksi is the perfect solution for your next influencer marketing campaign. Our team is ready to help you hit the ground running, whether you're a campaign veteran or dipping your toes in the water for the first time.
Register here for free and we'll get you started with your first influencer campaign!