Do you want to have your content published by brands like Wolt, Lumene, Luhta, and so many more?
Reaching out to brands on Instagram or other channels can be frustrating on a good day. Unless you have a dedicated team around you and 500k+ followers, it's nigh impossible to break through the noise and garner meaningful attention from the brands you want to work with.
That's why starting your creator career on a platform like Boksi is so effective! You can participate in campaigns run by some of the biggest brands for free. No need to spend hours searching or negotiating contracts - just complete a short application and wait to be accepted. And once you're in, you do what you do best (and get paid).
And if you've been on the fence about Boksi, well, it costs nothing to join, and by following the steps in this guide, you can apply to your first campaign in the next 10 minutes. So create your free account here, follow along and see what thousands of creators are talking about!
How to nail your campaign application in Boksi
You can see all campaigns available in Boksi as soon as you log into the platform. The most recent campaigns can be found first, but if there is a specific brand you want to work for, simply search for it to learn if they are hosting any campaigns.
We work with a ton of top brands who are constantly hosting new campaigns, so make sure you check Boksi regularly.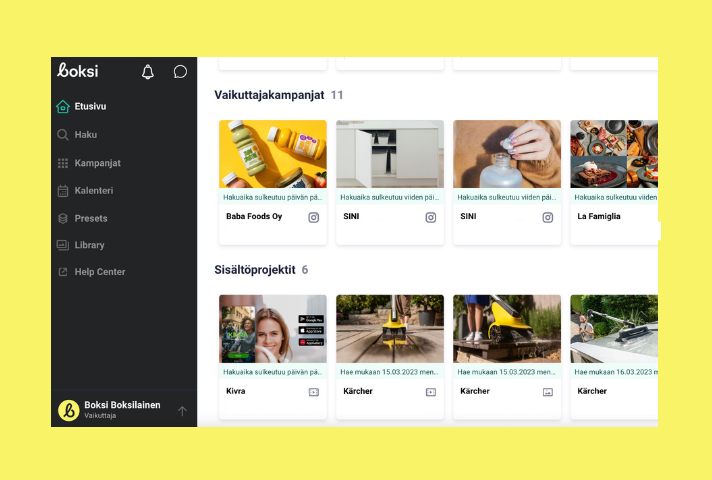 Lots of campaigns to choose from!
Before you apply, though, make sure to check whether the campaign is an influencer campaign (with Instagram or TikTok logo) or a content campaign (with an image of videoclip or of… images).
Here's how the different campaigns look in Boksi.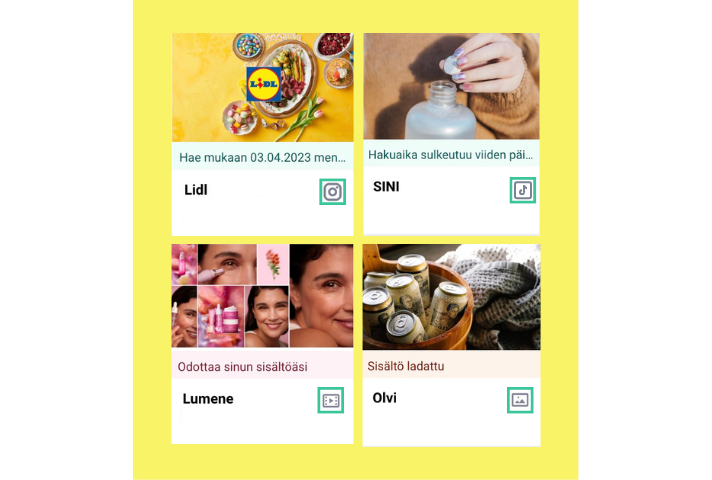 This is how you find influencer and content campaigns.
Once you find your dream campaign, click on it to find everything you need to know.
The brief is the most important part of the campaign. This will tell you everything you need to know. You can't read the brief closely enough!
It's easy for brands to tell who read the brief and who didn't when choosing which photos to buy - so give your content the best chance of being selected!
While you read, make sure you pay attention to these three things:
Obtaining the products - most likely you'll need to take photos of the brand's products. Some brands will send you the products after they accept your application, while in some campaigns you might have to order or pick up the products yourself.

Desired photos - the brief will tell you the kind of photos the brand is looking for, so make sure you read it carefully. Then read it again. Seriously, you can't read this part enough! Not only will you learn the visual style they want, but also the technical details. You don't want to be submitting 16:9 photos when they're looking for 9:16.

Moodboard - Some brands will provide a moodboard to help you create content that matches their visual dream. Use this for inspiration.
There are so many different campaigns that it's impossible to list all the important edge cases to watch out for. But as I said, literally everything you need to know will be in the brief. So… read it!
After you've understood the brief, it's time to apply! The process is simple - select 'Apply' at the bottom, and you'll be taken to the application screen.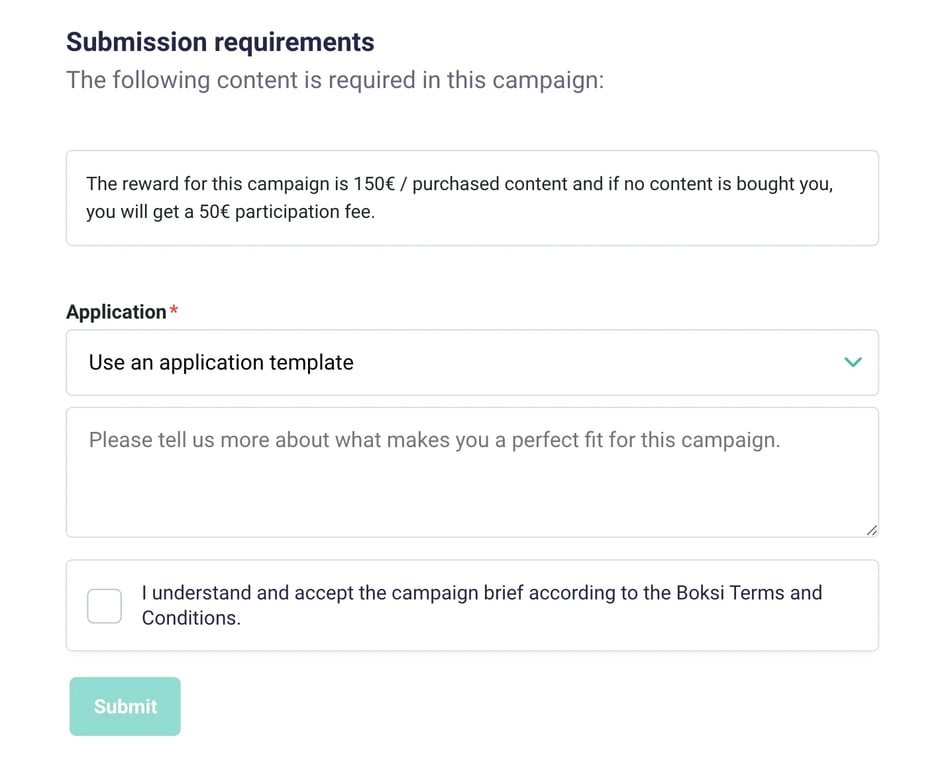 The application screen
So what should you say in your application? You can use an existing template if you have one, but if this is your first time, you might be struck with a bit of writer's block.
Don't worry! Here are some tips to increase your chances of being accepted.
Become familiar with the brand you're applying to. You don't have to be their biggest fan, but you should have some idea of what they stand for, what they do, and what they've done before. Great places to start are their website and social media accounts (particularly Instagram or TikTok).

Tell how you plan to take the photos. Don't just say you're going to take amazing photos - tell the brand what sort of camera you are using, whether or not you are using any models (and how they look), your photography experience, and if possible, leave a link to your portfolio or Instagram account.

Be concise. Keep your application as short as possible. Give the essential information, tell how excited you are to work for the brand, and proofread for any errors or spelling mistakes.
If we put all these tips together, our application would look something like this…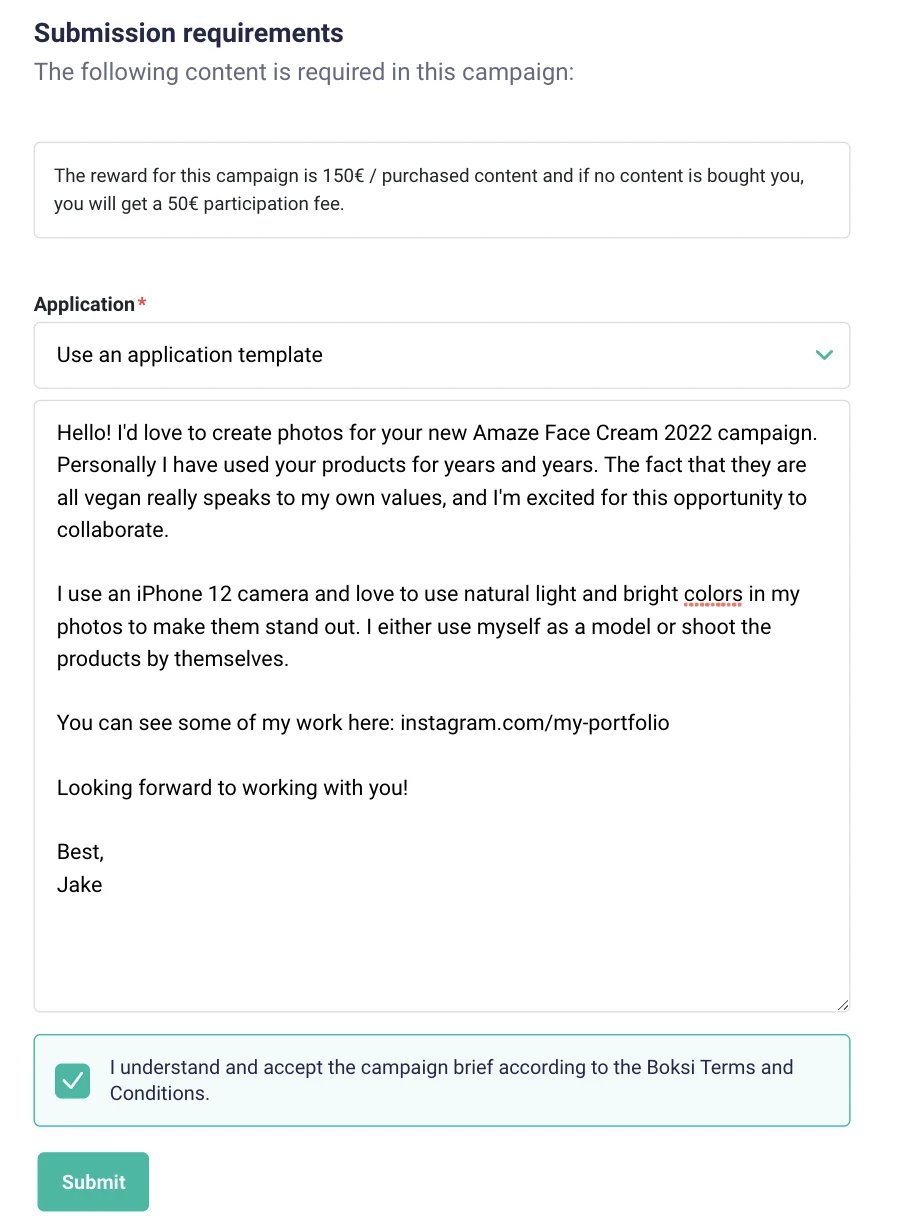 This application looks great!
This application is concise, explains a little about the values Jake has in line with the brand, explains how he takes the photos and his style, and most importantly, a link to his portfolio so the brand can decide if his style matches their own.
Once you're happy with your application, send it on! (While you're waiting, why not re-read the brief?)
4 tips to produce amazing content that gets bought
Congrats on receiving your acceptance message! Now you're ready to create some amazing content and make some money.
But before start snapping pics, we have some tips here that are guaranteed to help you sell more content to your favorite brands on Boksi.
Re-read the brief
Sick of the brief yet? It's honestly your best source of information and inspiration for content. I mean, it literally has everything the brand is looking for!
So before you go out and spend a lot of time and effort on producing top-tier content, make sure you're ready to create top-tier content that the brand actually wants.
Don't forget the technical specifications! Format, size, orientation - these are all vital things to know before you upload an amazing photo in the wrong aspect ratio.
Variety is the spice of life
You can play it safe and send 10 photos of their products in slightly different variations and angles, or…
You can make your content pop with a wide variety of angles, scene changes, placements, and so much more.
It's true, it takes more effort to have different settings, scenes, layouts, and moods.
But after analyzing the thousands of content campaigns we've conducted, we've seen that brands choose a wide variety of content that shows off their products in unique ways.
So don't play it safe - be bold!
Think like a brand
Before you start shooting, step into the brand's shoes. How would they love their product to be seen? (By the way, the brief is a great way to understand their point of view. You have read it, right?)
The brief will tell you where they plan to use your content, so do yourself a favor and learn which photos they use in different mediums, like:
Instagram posts, reels, and ads

Website

Online store

Print advertisements
As well, find their brand values - what makes them stand out? What are the latest trends in the industry? Brands are constantly keeping up with the latest trends, so make sure your content matches the trends they want to hop onto.
Keep your content up for sale
Once you submit your content (10 photos minimum, but we recommend submitting more to have higher chances for bigger rewards), now begins the waiting game.
You have full control over whether or not you want to sell specific pieces of content, but keep in mind these two things:
Brands have up to 3 weeks to purchase content from a campaign. After that you'll know whether you sold any pieces, or received your participation fee.

Even after the campaign ends, all pieces are added to the brand's Library for purchase. This means that they can purchase more of your pieces in the future!
So, there's really no reason to mark content as not for sale unless you really don't want to sell them.
Tips from Boksi content creators
We asked two content creators to share their own tips for creating amazing content for brands.
Heidi Strömberg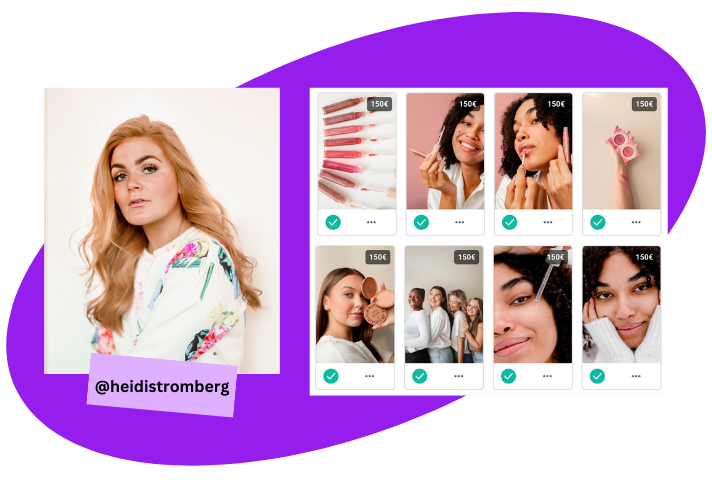 Some of the amazing content Heidi has produced!
My tips for photographing for Boksi content campaigns are to view the campaigns from the clients and brands perspective - what kind of content suits them? What is their style?
Collect ideas for yourself and get inspiration from your everyday life. Use your imagination and don't be afraid to use your craziest ideas!
Also remember to pay attention to good quality and natural light. The best photos are created when there is enough light.
If needed I will get some props for the photoshoot. I planning my shooting time so I can get the right kind of mood to the images. In some pictures the direct daylight works and in some a softer evening sun is better. I always save and take notes for myself whenever I have the slightest bit of inspiration for my photoshoots.
Depending on the amount of products, I usually upload over 50 images to a content campaign as I shoot from many different angles and setups. With videos I usually upload 3-6 pieces.
Antti Kämäräinen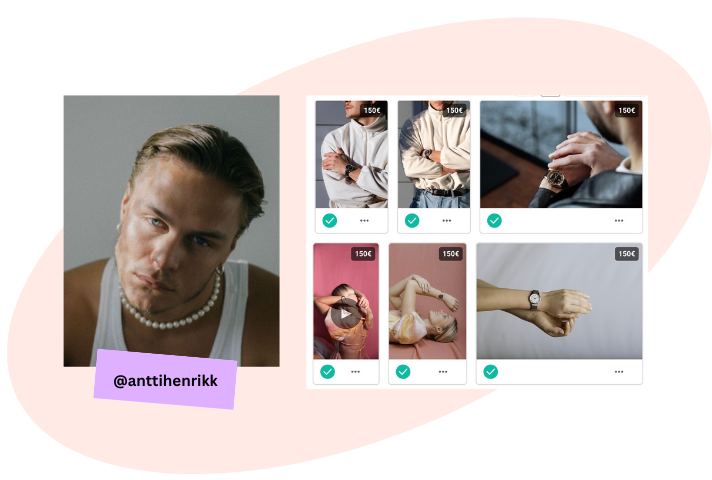 Some of the amazing content Antti has produced!
To create great content in Boksi content campaigns it's vital to understand the brands' needs and wishes. Every campaign is different and the editing I make can be very different compared to my own style.
The most important thing in the content creation is your own visual vision, the correct use of your gear, good lighting techniques as well as strong communication with your model. Using additional lights may feel like a big step for a starting photographer, but with just a Speedlight flash and a flash umbrella your picture quality increases significantly. However you can do just fine with natural lighting as well.
Before the photoshoot, always start by reading the brief carefully. If you need to order the products or some additional props, do it as soon as you are accepted into the campaign. Also, if you are shooting with models it's good to give your wishes regarding their clothes, makeup, and hair in advance. Planning the photoshoot, location, schedule, and taking a look at the weather makes the shooting day a lot easier.
Outro
More and more brands are using creator-made content for their blog posts, social media accounts, and even larger marketing collateral. So your skills are essential to help them create branded content! After all, nearly 3/4ths of all communications professionals are now including branded content in their campaigns - and that number is only going to grow.
The brands that you love are looking for your content. Getting it in front of them used to be difficult - but we're changing that.
As an influencer and content creator, producing branded content for the brands you love through Boksi is the best way to get your foot in the door as you strive for longer-term partnerships.
And best of all, joining Boksi is free, and anyone can apply. So no matter if you're a content pro searching for their next revenue stream, or just starting your content journey, there's a place for you in Boksi.
Create your account for free, and start making money with your content!