Are you posting consistently on social media?
Having a consistent social media content schedule and posting cadence is a dream for many marketers, but achieving it can be a challenge. It requires strategy, a plan, and most importantly, content.
Ask yourself: How often would you like to update your brand's Instagram? And how often are you actually doing it? Now…did the numbers match?
While having ideas and schedules are great, you also need to execute on those ideas. And 51% of marketers find it difficult to produce social media content with any regularity, meaning that well-planned strategies can fail. It's easy to make content, but making converting content is difficult.
However, it's time worth spending. The time consumers spend on social media is increasing, and in addition to sharing self-generated content, consumers use social media to support their purchase decisions and to search for information about brands.
Instagram alone has over 1 billion users, so it's possible to reach completely new and relevant audiences through it. In fact, many brands have already adopted Instagram as one of their main marketing channels and there are 25+ million business accounts on the platform.
So, being active on social media is vital. However, posting low-quality content can negatively affect your brand. To stand out in a crowded market, you need to post relevant, high-quality content frequently.
However, more and more consumers are tired of the staged photoshoots and crave more authentic photos from brands - images that relate to their life and situations they can see themselves in.
You're not alone in this struggle.
But what if you could source authentic, curated brand photos straight from creators and fans with exclusive rights? There have been an explosion of branded content platforms that connect brands with creators to produce branded content for social media, websites, and so much more.
Many of them like Boksi follow a simple formula: Brief your creators, choose the best content, use it everywhere.
Let's cover the benefits of branded content platforms and how they can be the answer to your social media creation woes.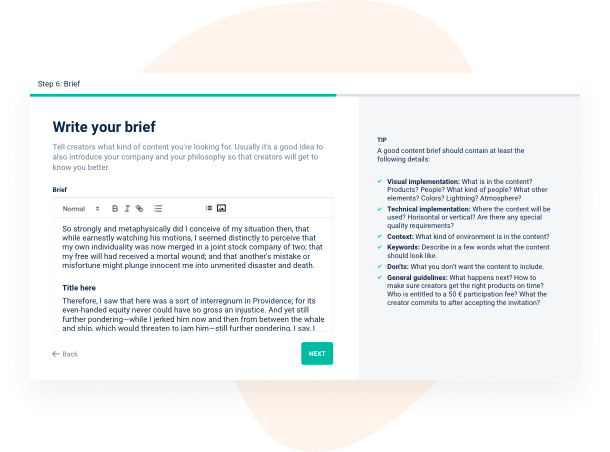 Writing a brief is made easy with our interactive campaign creation tool.
1. Brief your creators
Whenever you have an idea or content campaign, you're ready for branded content.
Before creators can create anything for you, they need to know what they're creating. The content brief is the first step, and perhaps the most important. It's here that you can outline your vision and set the scene for your creators.
The vital points to include are, but not limited to:
The type of content - photos or videos

Where you will use the content

The desired mood and theme
Do you want any specific products to be on display or are you just looking for beautiful visual content that communicate your brand's feelings and values? Do you prefer warm or cool colors? Are there some things you don't want to see in the content? This is the part where you can be super detailed and spill the tea! It is very important to pay attention to the briefing, as our creators will create the content based on it.
In order to streamline the briefing, we just launched a Branded Content Create Tool, with which you can create a brief very easily. The platform asks you all the necessary questions we need answered before we can start scouting the content creators. After the brief is done, we can match it with the creators that meet your description.
If you want to know more about creating a brief that communicates your expectations and needs but still lets the creators entail their creative freedom, go ahead and read about writing the perfect brief.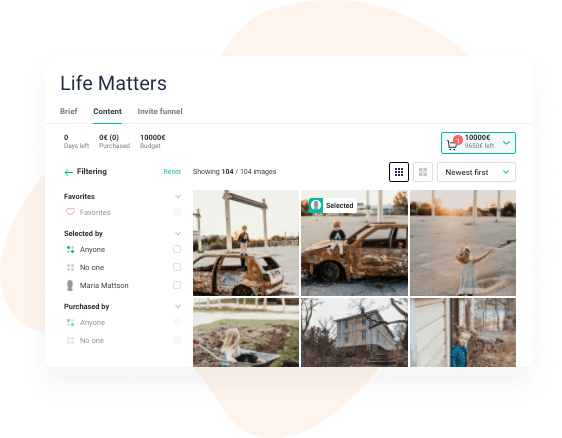 Browse all the content in Boksi and make selections. Want to make selections collaboratively? That's possible too.
2. Choose the best content
After you've successfully created a brief for the creators, you just need to wait a little bit before receiving the content. The creators will have a look at your brief, get inspired and create the content based on the guidelines given by you.
Usually one branded content project takes a month, depending on whether the creators need to order the products before they can start creating the content. The creators will harness their creative skills to use, execute the content and upload all the content to Boksi. After this, you can review the content, make pre-selections and eventually buy only the pieces of content you see yourself using in your channels. Easy as that! And no need to juggle with photo licenses and unpersonalized stock photos.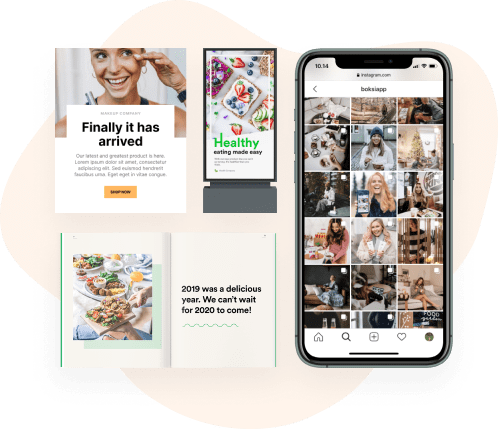 High quality content can be used anywhere ranging from social media to print production.
3. Use it everywhere!
The third and final step is the most fun - putting the content to use! Our content gives you the chance to create awesome marketing materials without having to step away from your laptop. And after you've made the purchase, the content is yours for a lifetime. So, publish an Instagram post, upload a TikTok video or an Instagram Reel, create a YouTube ad campaign or use in print advertising – your call!
We're just here to make sure you can keep on creating awesome content without having to sacrifice your time or money.
Boksi is the easiest and most cost-effective way to source visual branded content, so why not give it a go now? Request a demo and start sourcing awesome content!