Instead of most other social media platforms, TikTok thrives on sound. And thinking sound-first is not only recommended, it's basically mandatory.
But, with a business account, you need to be wary of which sounds you use, and where. While a business account gives you many benefits over a regular account, there are some drawbacks. Namely, in which sounds you can use for commercial purposes.
Don't worry - we'll cover the essentials of what you need to know, as well as the best ways to use sound yourself!
And since we're talking about legal stuff, I have to throw in this disclaimer: This is not legal advice! A legal professional is the best answer to any questions you have. We do not make any guarantees as to the accuracy or completeness of this information and take no liability or legal obligations for your use of this information.
Here's what we'll discuss:
How Instagram and TikTok approach music
The basics of sound on TikTok
How to best use sound on TikTok
Let's get into it!
How do Instagram and TikTok differ in their music usage?
If you're new to TikTok, you may be wondering how it works and how it differs from Instagram.
We had a webinar introducing TikTok to those who may not know about it, and you can view it here (note: Webinar in Finnish).
However, for both platforms, using music can be a bit tricky when you have a business account.
The golden rule is: if you don't have the licences, you can't use the music.
Instagram is quite clear in their statement, which says:
"Use of music for commercial or non-personal purposes in particular is prohibited unless you have obtained appropriate licenses."
But what about TikTok? Music is a vital part of the experience, and naturally TikTok offers businesses an opportunity to tap into that essential piece of the puzzle.
Let's dive into sound on TikTok, why you need it, and how you can use it!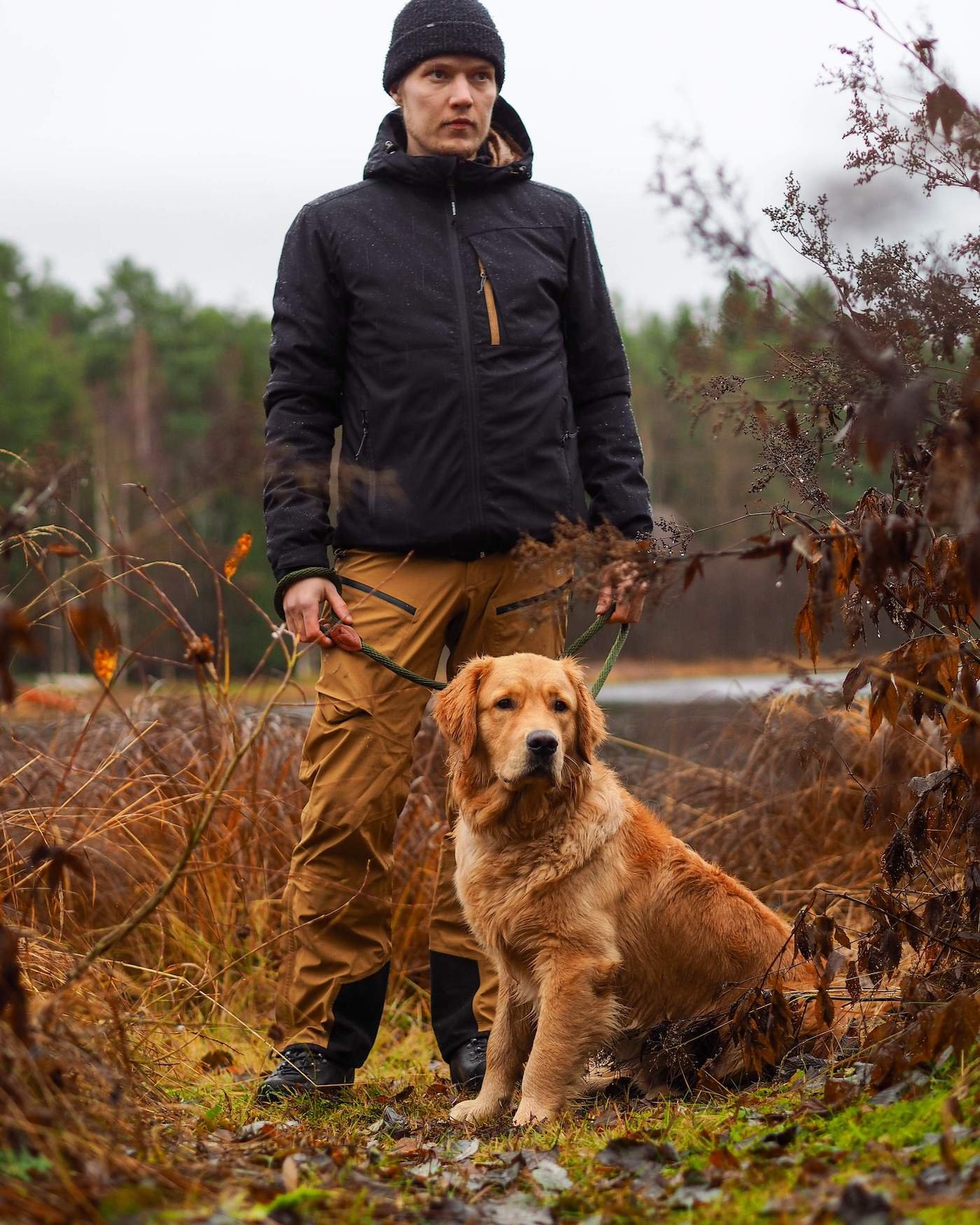 Photo by @paakkia
Using sound on TikTok
First of all, as mentioned earlier, if you want to use the latest chart-topper in your next TikTok campaign, then you're going to have to pay for the license. No way around it!
Luckily, you do have access to the Commercial Music Library, which contains over 500,000 royalty-free tracks that you can use in your TikToks. However, when you compare the selection to creator or regular accounts, it's unfortunately limited.
While you can also create your own sounds (more on that later), we stress that as a business account, you need to have the licenses for ANY sound used on your content, including:
All organic content
Launching advertisements
Hashtag Challenges & Branded Content (like influencer campaigns)
Why is this? Well, there was a time that TikTok allowed businesses to use any song they wanted. However, as TikTok grew, and struck more deals with music publishers, there became a real worry that savvy companies could connect their brand to songs, basically for free. So, TikTok created the Commercial Music Library for brands to use royalty free music, and keep the music publishers happy.
(By the way, TikTok warns you multiple times if you try to use a licensed track on your TikTok, so don't worry about accidentally finding yourself in the middle of a copyright infringement lawsuit.)
What this means for you:
You cannot duet, react, or stitch with videos that use sounds from the general music library
Branded content connected to your brand must use sounds that you have the rights to, whether they are from the Commercial Music Library or elsewhere
You CAN duet, react, or stitch with user videos that use Commercial Sounds from the Commercial Music Library or Original Sounds
"Branded content must only contain music from the Commercial Music library. If you ... have obtained the necessary music licensing rights to use music which is not available in the Commercial music library then you must upload your Branded content post ... and confirm you have obtained the necessary rights to use that music."
And yes, this means influencers in your influencer campaign must use tracks from the Commercial Music Library!
So, when you're looking for the perfect track for your next TikTok, the best place to start is the Commercial Music Library. There are tons of songs to look at, and while they won't be the latest hits on Spotify, you can still find something great for your brand.
But say your trip to the library wasn't successful, and you aren't ready to purchase licensing rights to the latest hot Spotify single… what then?
Well, you have two options - create your own sound, or get sounds from your fans!
Before we go on, here are some links from TikTok if you want to read more about music usage.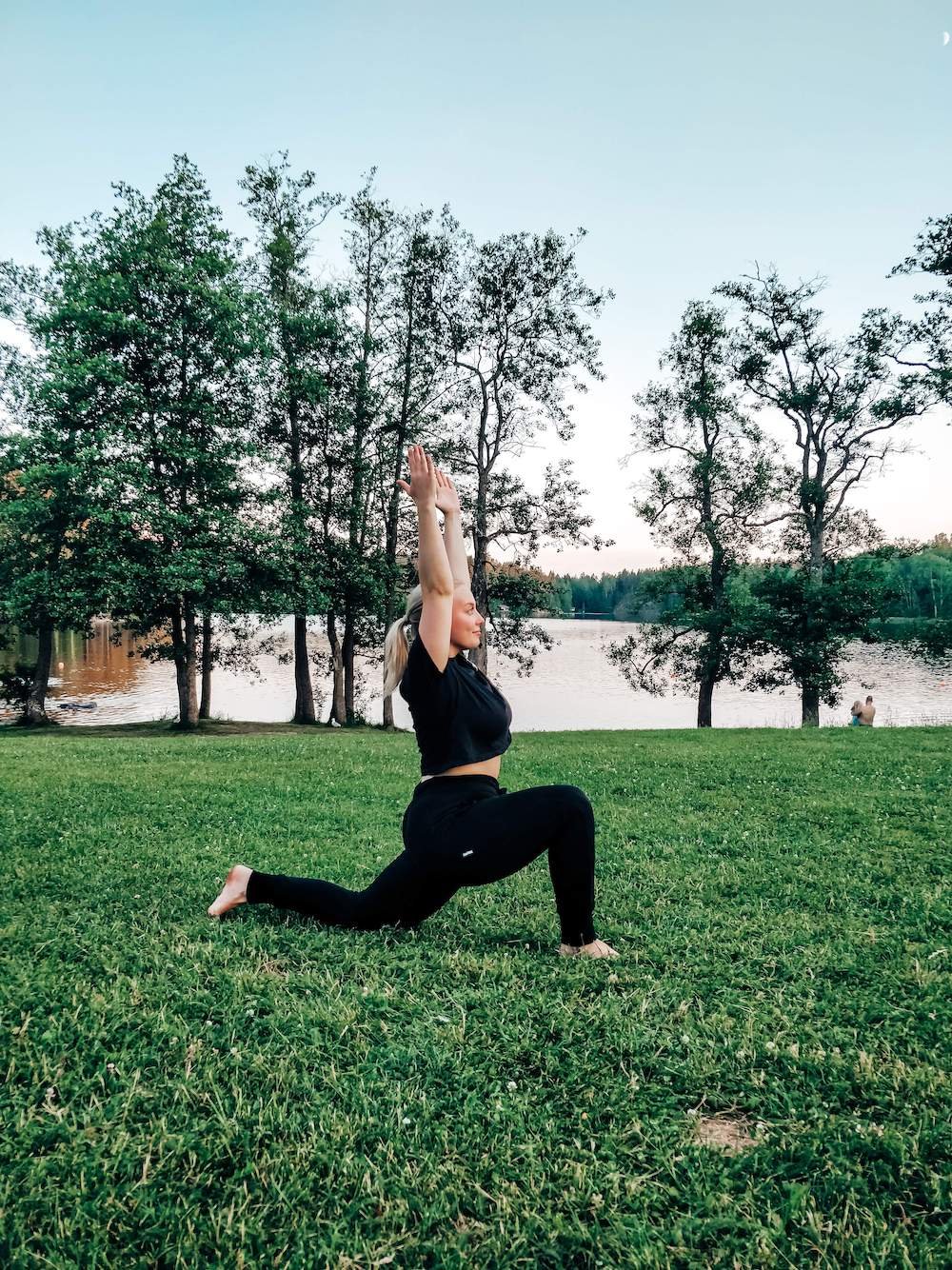 Photo by @heiniraivio
Creating your own sound
It's as it sounds - you are more than free to create your own sound and upload it to TikTok!
Whether you create a new sound in-house or request a freelancer to make a new jingle, the sky is the limit when it comes to your own songs. However, as TikTok says in their terms of service, you need to ensure you have all of the necessary licenses for the music as well. You are also responsible for making any relevant copyright, usage, or licensing arrangements.
Note that other people are free to use your song on TikTok once you upload it - which is a good thing!
If your fans reuse your song, or create a Duet or Stitch with it, that's more visibility for your brand. When you select the song on TikTok, you'll be taken to a screen that tells you more about the music, which is where you can add your brand information. Plus, the video that originally had the sound will always be shown first.
Here's an example of how the song page looks: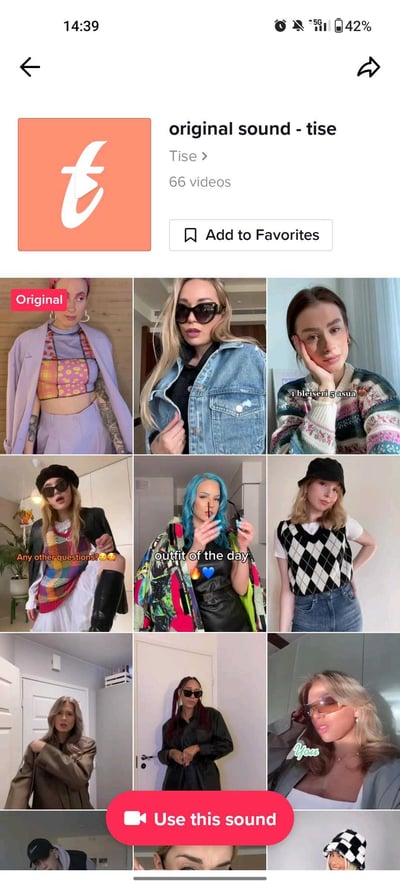 When searching for the original sound, users will see all the videos that have used the sound previously, with the original video clearly marked at the top.
TikTok thrives on users interacting with each other and building upon viral trends, so take it as a matter of pride when people start using your sound unprompted!
However, if other businesses start using your content, then that could be trouble, unless they've obtained the licenses from you.
So how can you make your own sound on TikTok?
One way is to add a voiceover to your video, but if you use the desktop video editor on TikTok, you can also upload sound to use there.
You can also use your preferred video editing tool, add the sound to your video, and then upload the entire video to TikTok.
The other way to use sound on TikTok is to encourage sounds from your users!
Sounds from your fans
You can also create a campaign or hashtag and encourage your fans to create their own audio for you.
This is perfect content for you to react to, or then create content from.
However, there are some things to be aware of before you start creating your campaign.
As we said earlier on, TikTok's terms state that businesses must have the necessary licensing rights to use music or audio that is not their own.
"Business Accounts are not blocked from using original sound that other users upload, but please note that TikTok has not cleared these sounds to use for commercial purposes.
If you choose to use original sound in your organic or paid content, consult your legal team to ensure you have obtained a proper license.
Note:
Business Accounts cannot duet, react, or stitch with user videos that use sounds from the general music library.
Alternatively, Business Accounts may duet, react, or stitch with user videos that use Commercial Sounds from the Commercial Music Library or Original Sounds."
If you go about asking for user-generated audio, make sure you ask for permission to use that audio in future commercial content.
And keep an ear out for any copyrighted audio, even if it's in the background. TikTok can be quite strict!
Outro
Hopefully this gives you an idea of how to use sound in your TikTok campaigns as a business!
There are some things to be aware of, but the best place to start is with the Commercial Music Libary. There are over 500,000 sounds to use, so you're sure to find something suitable!
If you decide to go outside TikTok's Commercial Music Library, then make sure you have the licenses for whatever sound you decide to use. Better safe than sorry, after all.
Now that you know how to use sound in your TikToks, did you know that TikTok has robust advertising capabilities? We have a blog post detailing the best ways to create a Spark Ad - read it today!